My father-in-law has several work benches in his garage and I had been eyeballing this one as we began our clean-out of their home. The empty space under the deck stairs was where I had decided to put the potting table after I gave it a little clean-up. Underneath the bench was covered in spider webs and eggs with MILLIONS of baby spiders in them, which the HH, thankfully, took care of.
Last night, I began to clean up the workbench and decided to use a box cutter and a hammer to pry the nailed in linoleum off of the top. A few cuts with the box-cutter and the ugly linoleum was gone revealing some weathered wood filled with nail holes, which I loved. A good spraying with the garden hose and my new gardening table was ready to be filled with seasonal decor, pots, and the last of the herbs from the summer.
What do you think? Should I have left the linoleum on? : )
Blessings….Lucy!
Subscribe to Blog via Email
Comments? I love to hear from you?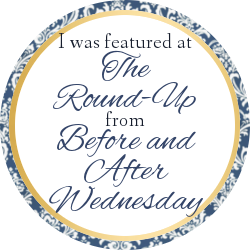 This post is linked to….